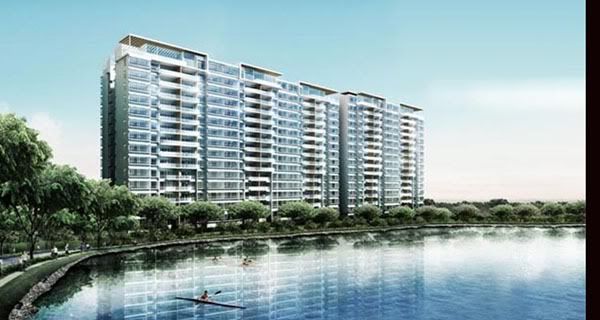 District: 16
Location: Bedok
Address: 770 – 780 Bedok Reservoir Road
Developer: Far East Organization & Frasers Centrepoint
Tenure: 99 years wef 31st Oct 2007
Responding to an email request we received this week, the wife and I, with our 5yo son in tow, visited the sales gallery for WATERFRONT KEY this afternoon.
WATERFRONT KEY is a 437-unit mass market project jointly developed by Far East Organization and Frasers Centrepoint. This 99-years Leasehold condo, which was first launched in July 2009, is made up of eight 15-Storey Towers. The project is sited on about 215,000sqft of land along Bedok Reservoir Road, and is located adjacent to
Waterfront Waves
, which is another 99-years project jointly developed by Far East/Frasers Centrepoint that was launched back in Feb 2008. The expected TOP of WATERFRONT KEY is in Dec 2013, one year after
Waterfront Waves
.
WATERFRONT KEY is marketed as a "waterfront living" project, since the Bedok Reservoir is right across the road from it. We were told by the marketing agent that Bedok Reservoir is almost 70% bigger than the whole Marina Bay area – we are taking this solely by face value, but it does look like a pretty big reservoir from where we were standing within the sales gallery. The development can also lay claim to being unblocked at the front and back – the front faces the reservoir, while the back faces Bedok Town Park.
WATERFRONT KEY is also supposedly less than 800m away from the proposed Reservoir MRT Station, which is part of the Downtown Line that will be ready by 2018. Meantime, residents without cars can take the bus (or taxi) to the nearest operating MRT stations (Bedok or Kembangan) and shopping malls in Bedok and Tampines, which we were told are about 15 – 20 minutes away. For bus commuters, you will be pleased to know that there will be a bus-stop just in front of the condo.
The units in WATERFRONT KEY come in several different layouts and sizes:
• 2-Bedrooms: 886 – 1178sqft
• 3-Bedrooms (Compact): 1007 – 1108sqft
• 3-Bedrooms (Regular): 1133 – 1742sqft
• 3+1 Bedrooms: 1331 – 1880sqft
• 4-Bedrooms: 1488 – 1566sqft
• PH: 2860 – 3038sqft
But before you get too excited about the spacious 3-bedroom units that are apparently available, these are actually ground floor units with huge PES. The typical sizes of the 3-bedders are only 1000 – 1300sqft. But the penthouses are all single-floor units, so you can expect these to be huge.
Given the relative big plot of land that WATERFRONT KEY sits on, it can afford to dedicate a significant portion of land area to condo facilities, which are all located on the ground level. So you can expect
• 2 tennis courts – this is quite a pleasant surprise, as many new development these days , even some of those higher end ones, only come with 1 tennis court at the most.
• Gym and steam rooms
• 50m main pool and other "themed" pools
• Private island next to the wading pool – these are basically dining pavilions with kitchen facilities for entertaining and parties.
• Jogging track around the condo, and outdoor fitness deck
• Children's play area
Basement parking is provided but nobody can tell us exactly how many - we were told that there will be enough lots for 1 car per unit, with a couple of "spares".
There are 2 showflats in the sales gallery. The first is a 1216sqft, 3-Bedroom unit (Type C1). The L-shape living/dining room comes with 60cm x 30cm marble floor and already looked rather cramp with just a small sofa and a 6-seater dining table. The rectangular balcony looks a good 50sqft in size. The dry kitchen area is next to the passageway into the living/dining as you come through the front door, and is equipped with a sink and cabinets. The wet kitchen is long and rectangular and comes with homogenous tiles flooring. You get a solid surface worktop, top and bottom set of cabinets that runs along the length of the kitchen, "Delizia" hood/hob/oven and "Newform" faucets/sink. The wife and I are hardly impressed by the quality of kitchen furnishing provided. The bomb shelter/maid's room, with barely enough space to fit a single bed, and toilet are located at the end of the kitchen. There is no yard for the 3-bedder unit.
The common bath has 60cm x 30cm marble floors, and the wall tiles is supposedly the "special quick drying" type so that moisture will not retain on the wall. The toilet fittings are functional but non-descript, so we cannot tell you exactly what brands of fittings you can expect (and neither can our marketing agent). The two common rooms are small but regular shape, so your options on bedding is probably limited to "super-single" or "double-decker" beds if you do not want your rooms to contain just a bed and nothing else. The workmanship of the wardrobes is atrocious – uneven edges and a horizontal piece of wood panel that sticks out like a sore thumb noticeably across the length of the wardrobes.
The master bedroom has enough room to fit in a "queen" bed comfortably, and the amount of wardrobe will probably help save you quite a bit of money on clothing if you can stick strictly to the space provided. The master bathroom is surprising huge, with marble floor/wall but again some non-descript bathroom fittings. A sunken bath is provided, which is a nice touch. However, you only get one of those ordinary wall mounted shower, which is a pity.
The other showflat is a 1518sqft, 4-Bedroom unit. You get a larger living/dining area that comes with similar 60cm x 30xm marble flooring, a rectangular balcony of almost 80sqft that you can fit a 6-seater long dining table comfortably, and a L-shape wet kitchen that is of good size and equipped with similar appliances/ fittings/top & bottom cabinets as the 3-bedder showflat. There is no dry kitchen provided in this unit, which is actually a good thing as it makes the whole living/dining area feels bigger. You also get the same small bomb shelter/maid's room and toilet as per the 3-bedder, but at least the 4-bedder comes with a small yard equipped with built-in worktop/low cabinet and wash sink.
The 3 common rooms are slightly larger than those in the 3-bedder, but they all have to share the same common bathroom. The wife and I are again unimpressed with the quality of the wardrobes and bathroom fittings.
The master bedroom is much larger, which should allow you the options of either fitting just a "King" bed or a "Queen" bed with study table against the bay window and still have sufficient walking space around the room. It comes with a walk-in closet, which gives you slightly more wardrobe space. The master bathroom is about the same size as the 3-bedder, but it feels much smaller as you now have a long bath and a separate standing bath stall (but with rain shower this time) fitted into the same amount of space. And the toilet bowl actually faces directly at the bed once the toilet door is open. This is suppoosedly quite bad in Feng Shui speak.
What we like:
• The fact that WATERFRONT KEY is unblocked at both the front and back means you will get a "view" irrespective of your unit's facing. Apartments facing the main Bedok Reservoir Road (all 4-bedders and penthouses) will get the reservoir view, while units at the back with have a park view. Inward facing units will overlook the pool areas and greeneries within the condo.
• Although WATERFRONT KEY is not located near any big malls, ample amenities can be found within the HDB estates that is about 2 bus-stops away. The wife and I saw a big Sheng Siong supermart, many neighborhood shops and food outlets along Bedok Reservoir Road just before reaching the showflat.
• WATERFRONT KEY is located fairly close to Changi Business Park, the Japanese School as well as the upcoming United World College of SE Asia campus (2010) and Fourth University (2011). So there may be some good demand for rentals.
• Parents that need to find primary schools for their kids will be happy to know that there are several schools within 1-km of WATERFRONT KEY – Damai Primary, Yu Neng Primary and the very popular Red Swastika Primary School.
What we dislike:
• The quality of furnishing and fitting left relatively little to be desired. And we are not even comparing WATERFRONT KEY by applying the same standard we use for the higher end projects that we have seen so far. But even for a mass market condo, the two developers, being heavy weights in the property sector, can certainly do better than what they have showcased in the showflats.
• Although there is supposedly a 22m ingress between the row of apartments facing the reservoir and the main road, we suspect this is insufficient insulation from the traffic noise along Bedok Reservoir Road, which we understand is quite busy especially during rush hours.
• WATERFRONT KEY is a 427-unit project, while
Waterfront Waves
next door has another 405 units. We also understand that the land parcel located next to
Waterfront Waves
is scheduled to be developed into 2 other condo projects (all part of the Far East/Frasers Centrepoint "Waterfront" collection) that will be launched sometimes later this year and in 2011. As such, one can expect at least 1,200 new apartment units along this small stretch of Bedok Reservoir Road in a few years time. This is in addition to the existing condo developments (
Aquarius by the Park, The Baywater
) and HDB estates that share the same stretch of road. So be prepared for some heavy duty traffic jams on a daily basis, and possibly fierce competition in the apartment rental front when all these new apartment units get their TOPs.
We understand that about 50% of the units in WATERFRONT KEY have been sold as of today. In particular, Towers F, G and H are almost fully sold while Tower E is 50% sold. But you can still get ample choices from Towers A – D.
With regard to pricing, here are two selective indications:
• A reservoir-facing 1518sqft, 4-Bedroom unit on the 6th floor (#06-01) will cost you $1.38 million after discount. This equates to around $909psf.
• A park-facing 1227sqft, 3-Bedroom unit on the 14th floor (#14-10) will cost you $1.01 million, or $823psf
HOWEVER, the wife has done some research on past transactions for this project, and we found that most of the transactions from July 2009 to January 2010 were concluded at below $800psf.
In summary, the wife and I feel that WATERFRONT KEY will probably appeal to the die-hard "waterfront living" buyers that do not want to pay the Marina Bay Residences or even Silversea prices. However, WATERFRONT KEY is second rate at best (in our humble opinion, of ocurse) when you compare it with other "waterfront" projects, if the quality we have seen is what we will get.
See pictures and floor plans at:
http://s942.photobucket.com/albums/ad265/proptalk/Waterfront%20Key/