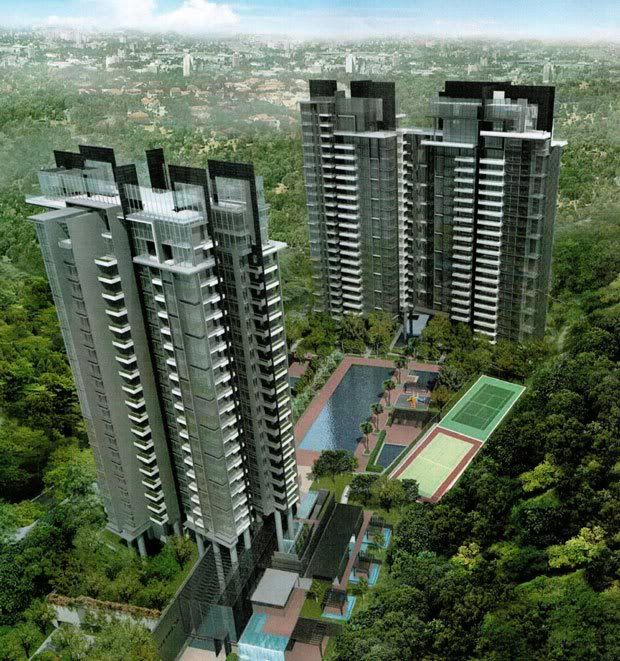 District: 10
Location: Mount Sinai/Holland
Address: 2, 6 & 8 Ridgewood Close
Developer: Singapore Land Limited (SingLand)
Tenure: Freehold
One wonders why it took us so long to review this particular project, given that it is located almost right at our backyard. But in all fairness, this is the second visit to THE TRIZON for the wife and I – the first was back in November last year. And frankly, the first impression we had on this project was far from good. This is because of a number of "dubious" representations in the 4-Bedroom showflat
• A "Baby Grand" was straddling between the balcony and the living room – now how often do you see that happening in real life?
• The space in front of the main door was "marbled up" - this gave the perception (at least to us) that this space is part of the unit's area, which in fact it isn't.
• A loft was built within the "double-volume" master bedroom, and we were told at that time that this is an option at owner's expense after the Certificate of Completion (CSC) for the project is obtained. However, we found out later that such construction, even if we are prepared to pay for it, may not be approved.
But in the spirit of unbiased reviewing, we decided to revisit the sales gallery of "THE TRIZON" yesterday.
THE TRIZON is a freehold project consisting of 289 apartment units in 3 iconic towers of 24-storey each. It is sited on a 194,000sqft elevated plot - where the former "Himiko Court" used to stand. The entrance to THE TRIZON is located on Ridgewood Close off Mount Sinai Drive. There will also be a side-gate from the development that will lead to the Pandan Valley/ Mount Sinai Drive intersection, from which is a short 3-mins walk to the main Holland Road and about 8-mins walk to Dover MRT Station. The expected TOP of THE TRIZON is end-2014.
Orientation-wise, Tower 8 is located directly opposite to Towers 2 & 6, and separated by the lap-pool. Towers 2 & 6 house the larger 3 and 4-bedroom units, while Tower 8 houses mainly the smaller 2 and 3-bedders. All apartment units are N-S facing.
THE TRIZON is a full-facility condominium project. But as a departure from the many new projects that have exploited sky terraces to their deaths, all the facilities in THE TRIZON are located on ground level. These include
• A 50m lap-pool and other "themed" pools
• A tennis court and a multi-purpose court (* basket-ball court soccer, anyone?)
• Entertainment pavilion with private pool
• Landscape spa alcoves with Jacuzzi
• Jogging track within the development
• Clubhouse – function room/gym/steam rooms
There will also be a total of 312 underground carparks within the development.
There are several unit types available at THE TRIZON
• 2-Bedrooms (55 units): 1012sqft & 1044sqft
• 2+1 Bedrooms (45 units): 1195sqft & 1346sqft
• 3-Bedrooms (95 units): 1550 - 2110sqft
• 4-Bedrooms (83 units): 1959 - 2314sqft
• Penthouses (11 units): 1776 - 7083sqft
When we first visited THE TRIZON, there were 3 showflats within the sales gallery. This time around, only 2 showflats are open for public viewing. The 4-Bedrooms showflat is currently closed for "improvement works". This made us wonder if we are not the only ones that have issues with the "representations" of the previous 4-bedders showflat.
The first showflat is the 1894sqft, 3-Bedrooms unit ((Type C1a). Access to the unit is via common lifts (no private lifts for this development, sorry!). You get 3.34m high ceiling, marble flooring for the rectangular shaped living/dining area and even the kitchen. However, for a supposed high-end project, the developer can certainly do better than the small 60cm x 30cm marble-slabs that are used for the floors. The balcony is long and rectangular, and takes up almost 250sqft.
There is no dry kitchen, which actually works for this unit as you get more space in the living/dining area. The wet kitchen is good-sized, and comes with full set of top & bottom cabinets. You also get "Smeg" brand hob/hood/oven/dishwasher, "Damixa" kitchen sink/faucet and a built-in single-door fridge (quite small). The yard is definitely big enough for laundry chores, but it may be a challenge to fit a regular-size single bed into the home shelter/maid's room.
The two common bedrooms are of decent-size, which you will have no problem putting a queen-sized bed into. The common bathroom (quite big) has homogenous tiles for the floor/walls and comes fitted with "Hansgrohe" bathroom accessories.
Now for the master bedroom: this is where the "double-volume" (6.7m) ceiling height comes into play. And this time around, the marketing agent did specify that building a loft here may be possible, but is subjected to approvals from first the MCST and then the BCA, and only after the CSC is obtained. However, there is no guarantee that approvals will be granted. The master bathroom is very elegant, with marble floor/walls, a standing rain-shower and a step-down sunken bath. You also get separate "His/Her" bathroom sinks, which is a nice touch.
The other showflat is the 1012sqft, 2-Bedrooms unit (Type A2). You get the same marble floors, a much smaller rectangular-shaped living/dining area, a rectangular balcony/planter area that takes up about 80sqft, a long strip of a kitchen that comes with top/bottom cabinets and similar kitchen accessories minus the fridge and dishwasher. There is no yard in this unit, and the tiny home shelter is situated in the living room itself (less than ideal).
The common bedroom can probably manage a queen-sized bed, while the common bathroom is surprisingly large for such a smaller-size apartment. The master bedroom is of decent size, and the funny thing about the master bathroom is that there is a tub but no overhead shower – it comes with one of those retractable hand-held showerhead, which you will have to hold on to as you take your shower.
What we like:
• The quality of furnishing and fittings, which we felt is a close second to Parvis. We especially like the luxurious look of the master bathroom.
• All areas (except maybe the home shelter) in both showflats are very regular in shape and highly functional. This is especially important for the smaller units, where space is a premium.
• The location – THE TRIZON is easily accessible from either Mount Sinai Drive or from Pandan Valley. It is also located very close to amenities like Jelita Shopping Centre, Ghim Moh wet market/food centre, Clementi Central Hub & Holland Village, and within walking distance to Dover Road MRT Station.
• The Mount Sinai area is one of the most popular Expat address. So one can expect good rental yields.
What we dislike:
• The 1894sqft 3-bedder unit is actually much smaller than it sounds. If you minus the 250sqft of balcony space and the 118sqft of void area in the master bedroom (* remember the "double-volume" ceiling?), you are left with an "interior" area of about 1526sqft.
• Back to the "double-volume" master bedroom – unless you can really utilize the 6.7 ceiling height, like building a loft, you are basically paying for another 118sqft of useless space above your head. Sure, you can always hang a nice big chandelier in your master bedroom for kicks, but have you considered the complexity involved in keeping it clean? Better get ready that super-long ladder and hope you are not afraid of heights…
• Only one primary school is located within 1-km of THE TRIZON – Henry Park Primary. The only consolation is that the school is co-ed, and if the past three years are anything to go by, no balloting for phase 2C!
The sales gallery for THE TRIZON has been up for about 3 months now. However, the project is supposedly still on private preview basis, with the main launch only happening after the Chinese New Year. At present, only units in Towers 6 & 8 are released for sale. We were told that almost 80% of the 180 units released so far have already been sold – only 7 units of the 2-bedders and 10 units of the 3-bedders remain.
As far as pricing goes, units at THE TRIZON are currently selling at the $1400-1600psf price range. And here is a sample of what you need to pay
• Tower 6, #16-05 (1894sqft, 3-bedder Type C1a) - $2.73 million, or $1441psf
• Tower 8, #16-13 (1550sqft, 3-bedder Type C2) - $2.44 million, or $1574psf
We understand that the layout for Type C1a and C2 are almost similar, with C2 being 344sqft smaller because of
• No double-volume ceiling in master bedroom
• Smaller kitchen/yard
• Smaller master bathroom with normal tub instead of sunken bath
• No walk-in closet in master bedroom
For those who are really interested in THE TRIZON, you may be interested to know that the project is currently already at its 50% progressive payment stage.
On a parting note, the wife and I were really glad that we decided to visit THE TRIZON again yesterday, as our opinion of the project has definitely taken a change for the better. It will probably go into our "To Consider" list now, if we are shopping for a new apartment and have about $2.5 million to spare. But we will probably give units that have "double volume" ceilings a miss. It will also be interesting to see if substantial alterations are made to the 4-Bedroom showflat once they are done "renovating" it.
View Pictures and Floor Plans here:
http://s942.photobucket.com/albums/ad265/proptalk/Trizon/