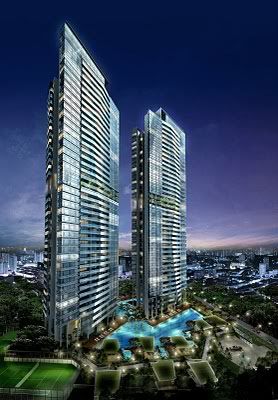 District: 11
Location: Novena
Address: 2 & 6 Sinaran Drive
Developer: Fraser Centrepoint Homes
Tenure: 99-years Leasehold (wef 23/10/2006)
The wife and I started the New Year by visiting an "older" new project – SOLEIL @SINARAN. Actually we had wanted to see "Trevista" but found the sales gallery closed today. We were equally surprised to learn from the papers that units in SOLEIL are still available from the developer, as this project was launched way back in 2007 and was supposedly quite "hot" during that time.
SOLEIL – Inspired by life. Rising out of Sinaran, the twin heights of Soleil stands as testaments to the beauty and power of our sun. A highly reflective glass graces the S-shaped curves of both facades, brilliantly enhancing the varying spectrums of sunlight at different times of the day… At least this is what the marketing brochure says.
SOLEIL as you probably know by now, is located at Sinaran Drive. This is the road you turn into to get to the carpark at Novena Square if you are travelling on Moulmein Road. The project consists of two 36-storey towers with a total of 417 units. The site area is approx. 134,000sqft with a plot ratio of 3.5.
Urban legend has it that when SOLEIL was first launched during mid-2007, people actually queued outside the sales gallery a few days before the actual day of launch. An Indonesian buyer was said to have paid the first guy in the queue $42,000 to take over his queue number. We were told that today is the first day of launch for the last phase of this project – developer is now selling all remaining 44 "reserved units" (* read "left over" units *). These consists of
• 1-Bedroom: 506 – 581sqft (9 units)
• 2-Bedrooms: 936 – 1098sqft (11 units)
• 2-Bedrooms Loft: 1432 – 1464sqft (10 units)
• 3-Bedrooms: 1485sqft (2 units)
• 4-Bedrooms: 1722sqft (8 units)
• Penthouses: 4715 – 4950sqft (4 units)
As to be expected, SOLEIL is a full facilities condminium. So you will find the usual host of swimming pools, tennis courts, entertainment and spa pavilions – you can supposedly call to book a spa appointment with the appointed spa operator (Aramsa) and have your massage done in the spa pavilion.
There will be a total of 417 basement carpark lots, i.e. average of 1 lot/unit. We were reassured by the marketing agent that there will be more than sufficient carpark lots as many of the units will be tenanted to foreigners, who probably will not own a car. But somehow the wife and I do not really buy the argument – what about those residents that actually own 2 (or more) cars, which is not uncommon these days? You can also forget about visitor parking we presume.
The one unique facility worth mentioning is the "Sports Bar" located at the sky terraces on the 20th floor of each tower. Current plan is for these to be tendered out to external vendors, who will operate the bar & lounge facilities. So you do not have to step out of your estate to find a watering hole. But whether there are enough patrons to sustain the bars (assuming these are not open to the public) is a big question.
In terms of orientation, both the towers are East-West facing. All the 3 & 4-bedders and 2-bedroom lofts face "outwards" towards Moulmein Road and the City. The 1 and 2-bedders are "inward" facing, i.e. towards Novena Square, Balestier and Thomson. A massive new hotel cum medical centre is currently being built on a plot right behind SOLEIL. From our observation, most (if not all) the 1 & 2-bedder units that are located on 10th storey and below of both towers will have their views blocked by this new building.
Given that there is only 44 units left to sell, the showflats were already taken down. So we had to make do with a site model depicting the 2 towers and their facilities, as well as scale models of the various unit layouts.
What we like:
• The location – next to Novena & United Sq (amenities), 10 – 15 minutes' drive to Orchard & CBD and with the Novena MRT Station almost at your doorsteps. These should translate to good rental returns for investors.
• If the scale models are anything to go by, the units are very regular in shape with few odd corners and space wastage. The bedrooms are all tucked to one side of each unit, away from the living/dining rooms and kitchen area.
• Although we cannot "feel" the actual living space you will get @SOLEIL without seeing the showflats, 1485sqft for a 3-bedder and 1722sqft for a 4-bedder do seem like decent-sized apartments.
• The 2-bedroom loft looks interesting, while its 1432-1464sqft is actually quite a good size. This is also bigger than similar loft unit we saw at "Cyan" (1300sqft).
• The whole penthouse unit is located on one floor. So you get over 4000sqft of space. The bigger penthouse units on the 36th floor even come with their own lap pools!
What we dislike:
• No laundry yard for the 1 and 2-bedroom units, although a washer/dryer is provided by the developer.
• The home shelter, which normally is the maid's room, is located within the kitchen itself instead of the yard area. So the maid gets little privacy – she will either have to leave the door of the shelter open so that you can admire her sleeping pose whenever you decide to cook yourself some supper in the middle of the night, or close the door totally and risk suffocation.
• No window in the yard area of the 4-bedder units, which means no natural ventilation for laundry drying.
• We cannot identify any primary school within 1-km of SOLEIL.
• And the one that takes the cake: SOLEIL is located right across from Tan Tock Seng Hospital (TTSH) and Communicable Diseases Centre. Although this may come in handy should you, for example, dislocate one of your limbs from falling off the bed in early hours of the morning (* touch wood *), it is extremely bad Feng Shui (according to the wife) to stay next door to a hospital. This is because you are constantly surrounded by bad "qi" from the sick and dying. And if one hospital directly across the road is not bad enough, there will be a new medical centre located right behind your estate.
In terms of pricing, a 4-bedrooms unit on the 18th floor will cost you close to $2.79 million, This translates to around $1,620psf – rather high for a 99-years development, especially when you consider freehold projects like VIVA Residences that is just across the road is only selling at around $1600 – 1700psf even in the sub-sale market. This is despite the 5% rental yield that the marketing agent claimed that SOLEIL will fetch, which we are again sceptical.
The monthly maintenance for a 4-bedder (8-shares) is $320. This is surprisingly low compared to some of the other "similar size" projects that we have seen so far.
In summary, we felt that buyers of SOLEIL will mostly be for investment purposes – for rental to foreign tenants who value good convenience more than good Feng Shui, or for short lease purposes to medical tourists, e.g. those who come for medical treatments or procedures at TTSH or the new medical centre and require a place to stay for a couple of weeks/months.
View Site and Floor plans of SOLEIL here:
http://s942.photobucket.com/albums/ad265/proptalk/Soleil/
If you have questions or interested to know more about SOLEIL @SINARAN,
please drop us your contact below:
.