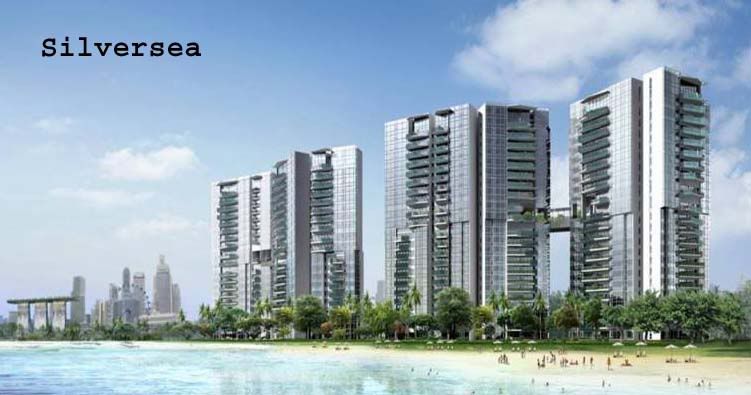 District: 15
Location: Marine Parade
Address: 46 - 52 Marine Parade Road
Developer: Marina Green Ltd
Tenure: 99 Years Leasehold (from July 2007)
How much will you pay for an apartment with sea view? A lot, apparently… if you ask the people at Far East that is.
SILVERSEA, developed by Marina Green Ltd (a subsidiary of Far East Organization), is located at the former Amberville site in Marine Parade. The project, being touted as "The last seafront plot in East Coast", has 383 apartments housed in four 21-storey towers. It rests on 285,000 sq ft of land, of which 60% will be used for landscaping. One unique feature of this development is that all the apartment windows are silver tinted – this is probably where the name "SILVERSEA" is partially derived. The expected TOP is end of 2013.
SILVERSEA was first launched in 2007, but marketing of the project seemed to have taken off only in the second half of 2009. There was a long period in between where the sales gallery/showflat was closed most of the time, and viewing was strictly by appointment only. We suspect the bad market sentiments due to the global financial meltdown may be a cause for the marketing delay… but do not quote us on this.
Only two of the four towers (i.e. Tower 1 and 4) were launched in the first phase. The average sizes of the apartments are
2-Bedroom: 869 to 1,152 sq ft
3-Bedroom: 1,485 to 1,582 sq ft
3+1-Bedroom: 1,647 to 1,701 sq ft
4-Bedroom: 2,497 to 2,766 sq ft
Penthouse: 3,550 to 5,000 sq ft
As of yesterday, 99 of the 170 units launched were sold.
SILVERSEA offers an extensive range of facilities apart from the usual ones found in most condominiums. The following deserve special mention:
• 2 X 50m lap pools
• Outdoor International Dining Pavilions - where different cuisines are supposedly served
• 2 X Sunken Tennis Courts
• Day Cabanas
• Lagoon Pool
• Balinese Spa & Japanese Onsen Villas
• Eco Pond
A Sky Promenade is located on the 11th floor of each tower. We were told that apartments on the 7th floor and below will not get any sea view as these will be blocked by the tree line. So residents of these units can enjoy the view of the South China Sea from the Sky Promenade. In addition, they can indulge in facilities such as:
• The Living Room – dip pool, heated Jacuzzi
• The Dining Room - with Gourmet kitchen
• The Elemental Spa – foot spa, heated stone slab, sun bathing deck
In terms of parking, SILVERSEA has 500 carpark lots, of which 29 are designated for visitors. The 2 and 3-Bedroom units are assigned 1 carpark lot each, while each of the 4-bedders and penthouse units will get 2 lots.
Only one showflat is on display – a 2,500 sq ft, 4-Bedroom unit. The unit has a "U-Shaped" layout, where the main and back door (accessible via the yard) faces each other. In addition to the common lift, you also get a private lift that opens directly into your unit itself. The master bedroom/living & dining room is located on one side of the unit, while the other 3 bedrooms are on the other side. These are separated by the kitchen and backyard in the middle.
The unit comes with a 3.5m ceiling height, marble floorings, two en-suite bedrooms (master and junior suite) and 2 balconies – one in the living room and the other facing the dry kitchen. The living and dining area is shaped in a large square, with ample room for a large sofa and dining table. The Master bedroom is very spacious, while the kitchen and backyard area are also good sized. Two of the four bedrooms have "transparent" walk-in wardrobes, while full set of cabinets for both the kitchen and yard areas are provided. A list of 40 items is also included with the unit. These includes
• Long bath with heated Jacuzzi (master bedroom)
• Designer wash basin (master bedroom)
• Safe deposit box (master bedroom)
• UV light panels in all wardrobes for moisture absorption
• "Kuppersbusch" kitchen appliances
• Electrical laundry hanging system, washing machine and dryer
What we like:
• The large living space in the 4-bedroom showflat. Then again, it is 2,500 sq ft after all.
• The extensive and unique range of facilities that SILVERSEA provides.
• SILVERSEA is situated very close to East Coast Park and Parkway Parade, so food and amenities are nearby. There are 2 side-gates that allow you access to the underground passage ways across to East Coast Park.
What we dislike:
• One of the bedrooms in the 4-bedroom showflat is really small. So it gives the impression that the unit is more a "3 + 1" rather than 4-bedder. In the words of the wife, it is really "sad" not to be able to get 4 decent sized bedrooms in a 2,500 sq ft apartment.
• This is the first showflat in recent memory where we saw a mix-bag of bathroom fixtures - this we find quite strange. And instead of "Hansgrohe", you get names like "Antonio Miro" and "Espirit". I did not even know that "Espirit" makes showerheads and taps!
• SILVERSEA is built East-West facing, so as to optimize the sea view. Unfortunately, this means that most of the apartments will have to bear with the direct west sun in the afternoon, and we are unsure how much insulation the silver tinted windows can actually provide. Looking at the site map, units 02 and 03 in Tower 1 are especially affected so be prepared pay more for air-conditioning if you are buying units from these stacks.
• To our knowledge, there is only one primary school that is within 1-km of SILVERSEA, i.e. Tanjong Katong Primary School.
• The current price for the 3-bedders average around $1,300 - $1,400 psf, while the 4-bedders average around $1,500 – $1,600 psf. So a 1,485 sq ft, 3-bedder unit on the 7th floor will cost you close to $2 million. This puts SILVERSEA, a 99-years leasehold project, on par with some comparative freehold projects (e.g. PURVIS @Holland Hill) in terms of pricing.
In summary, we feel that SILVERSEA will be ideal for those who crave for sea facing views and have a couple of millions to spare.
And speak of millions, we understand that Tower 3 will be launched next week. The units in this tower are larger, with slightly different layout from Tower 1 and 4, and have better quality furnishings/fixtures. However, the price will also be about 10% higher. There will be a separate showflat built to showcase the Tower 3 units, but this will not be ready until the end of the month. So do not head down to the sales gallery just yet!